Both vertical suspension and lateral bracing locations can be coordinated during the Submittal process to help work around any specific clashes or concerns in the space. It's important for these features - which are called out on their own page in the Submittal package - to be nailed down as early as possible in the coordination process. Once the submittal has been approved and detailed design work (including but not limited to
structural calculations
) is underway, there is risk of increased cost and time associated with changing vertical suspension points.
That said, lateral bracing is more flexible both in location and type of bracing. One of AirFRAME's advantages is that we are able to transfer lateral loads (to a certain extent) between modules of the system and, as such, we can work with customers - even later in the design process - to accommodate the challenges that come with diagonal braces.

Each AirFRAME (AF), Outboard Mount (OB), and Rail Channel (RC) module will have a vertical suspension point in each of the four (4) corners of each module. These suspension points are through-holes designed to accept 5/8" imperial hardware and are located 1.00" inward from the corner See Typical Anchor Point Detail below. SLD does not specifically recommend an anchor method over another as it can vary from region to region and site to site. Existing building structure, interstitial space, equipment loading (lights, booms, imaging equipment) and seismic zones play a large role in which anchor method will work best for your particular project.


Suspension hardware (other than a required plate washer) is provided by others.

Plate Washers

SLD will provide a plate washer for each suspension point. These washers are structurally required and installed on the under side of the tube in each module.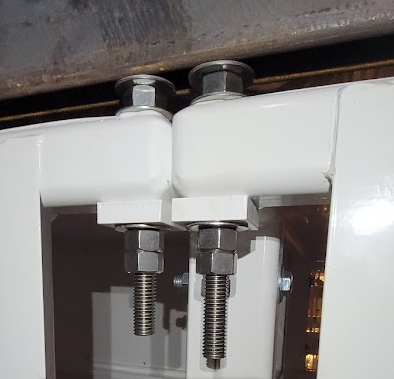 ---
Lateral Bracing

Lateral bracing, also referred to as horizontal bracing or kickers, may be required to resist forces in the horizontal (side-to-side) plane. Like suspension, these requirements can vary. Recommended locations are shown in the
Structural Calculations
package and SLD will provide through-holes for 1/2" imperial hardware at these locations that are inset 6.50" from the suspension point at that location. See Typical Anchor Point Detail below.
In instances where the vertical suspension hardware is also stiff enough to resist the lateral forces, additional lateral bracing may not be required. An example is and instance where the modules are attached directly to a structure or the all-thread rod drops are very short and thus the rod itself resists the horizontal forces. There are example photos below. Omitting lateral bracing should be approved by the Structural Engineer of Record (SEOR) for the project.


Unused Lateral Bracing holes that penetrate the airstream must be capped or otherwise sealed.


Outboard mount (OB) and Rail Channel (RC) modules may come with Lateral Bracing holes in every corner. Unused holes are not required to be capped if they do not penetrate the airstream.

---
Typical Anchor Point Detail

---
Collector Plates

Collector plates can be used to combine multiple adjacent vertical suspension points into a single point or to spread the points out to a wider connection. These plates are to be designed by others and approved by the Senior Engineer of Record (SEOR). They are typically a 1.00" steel plates, C-channel, or double-backed Unistrut-style framing. See Example Photos below.


In the
structural calculations
package, adjacent vertical suspension points are often combined into a single reaction node. This single reaction node is the combination of forces for all of the multiple points at that location. In such case, each point can be suspended individually or a collector plate can be used to support the points. In either case, all vertical suspension points must be supported.
---
Example Photos:

All-thread rod (ATR) drops and Unistrut-style lateral bracing:

This is by far the most common suspension method. ATR can attach directly to a concrete slab, structural beam (either with clamps or through the flange), into Unistrut-style stringers, through HSS or other steel stringers, etc. The lateral bracing below utilizes two Unistrut braces in order to resist movement in all directions.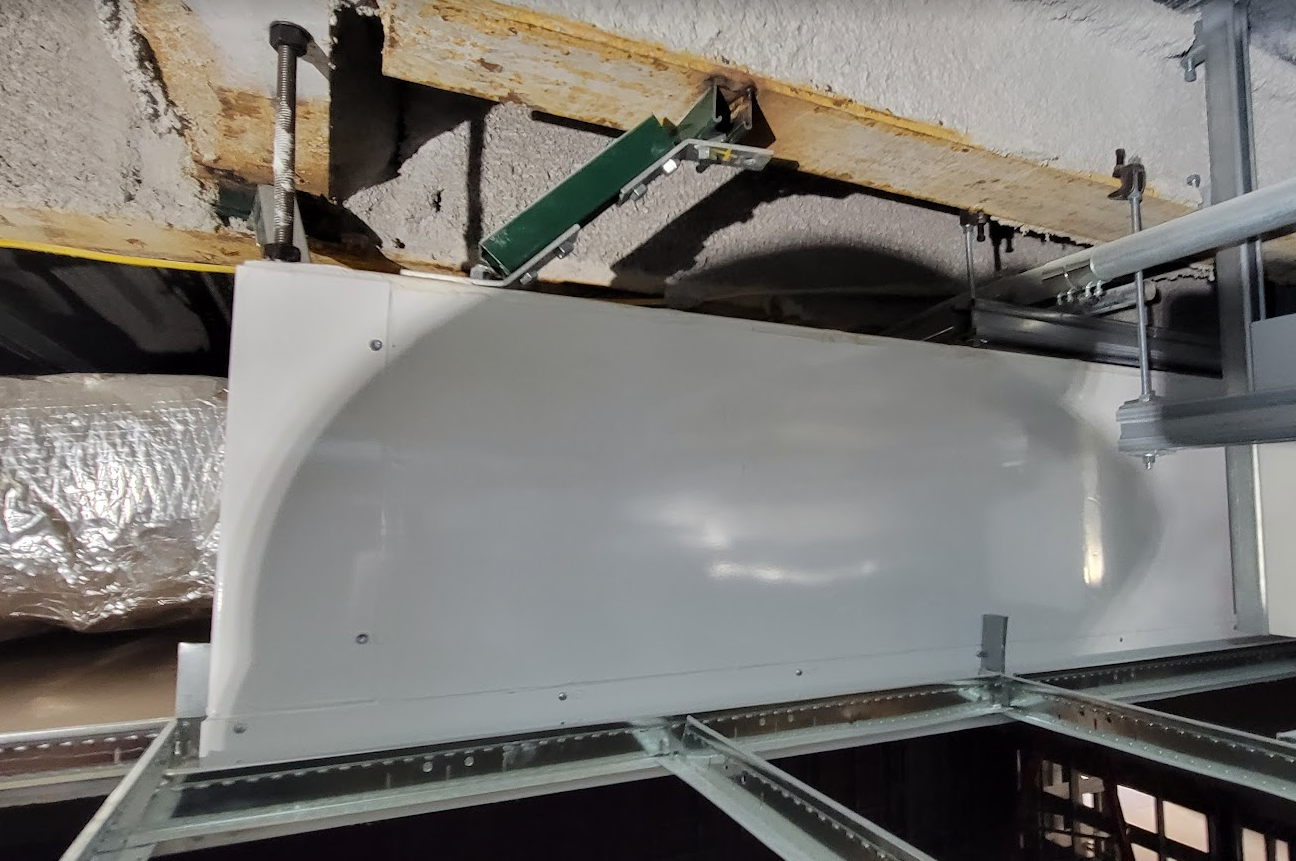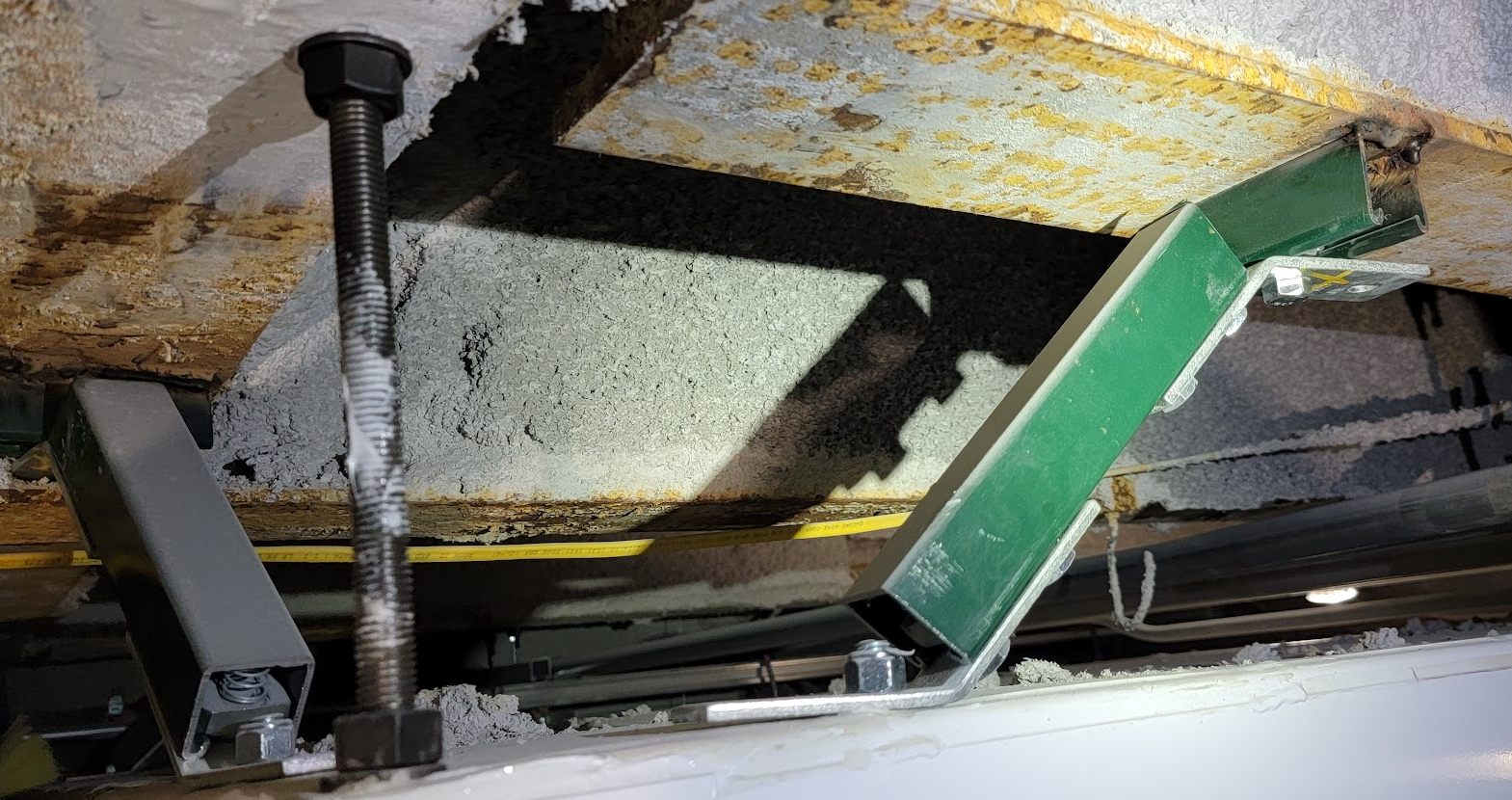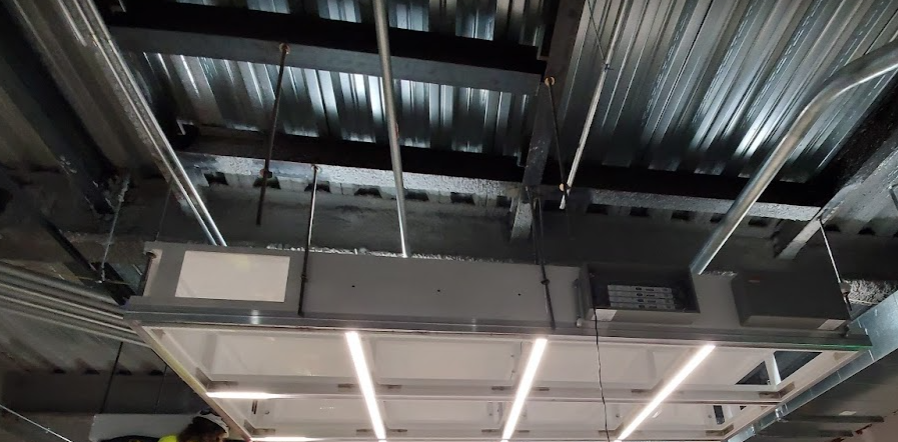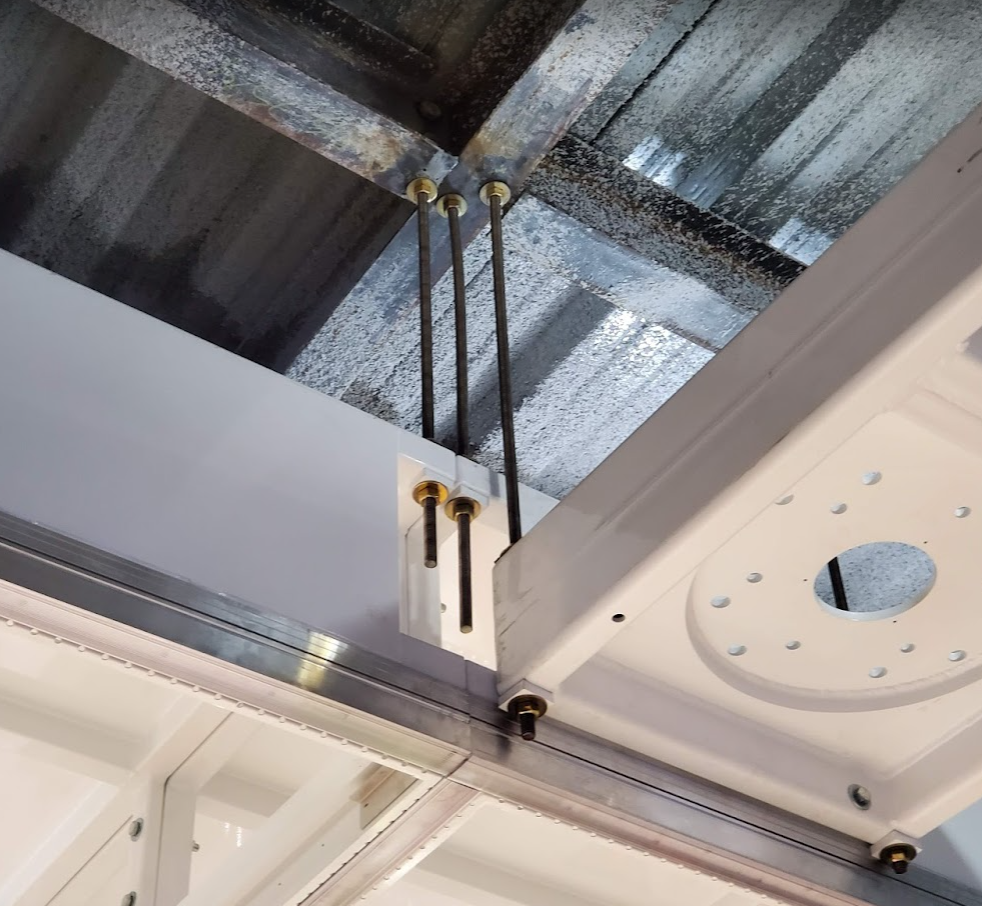 ATR drops from plates attached to Unistrut: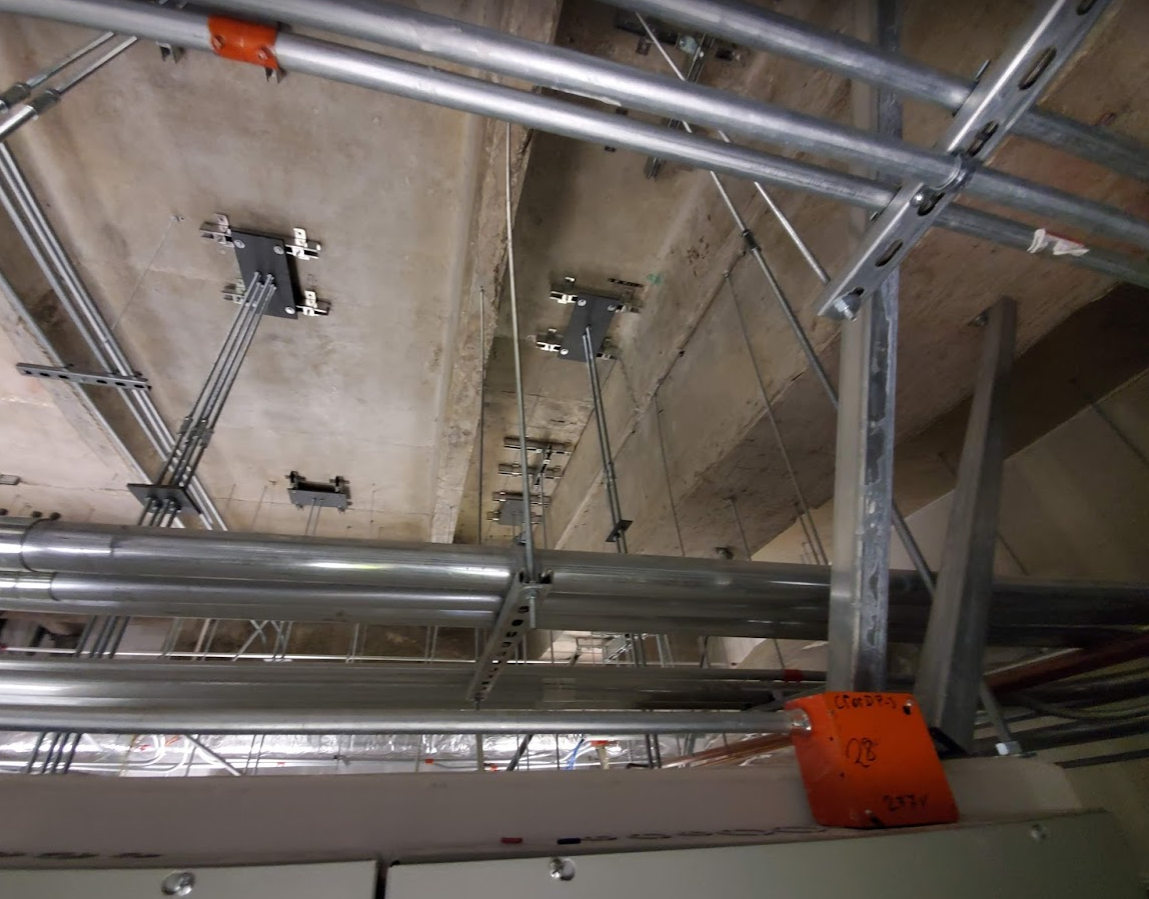 Reinforced ATR drops with Unistrut-style lateral bracing.

Combination of straight ATR, reinforced ATR as well as lateral bracing in multiple directions.

Steel dropped to trapease ductwork: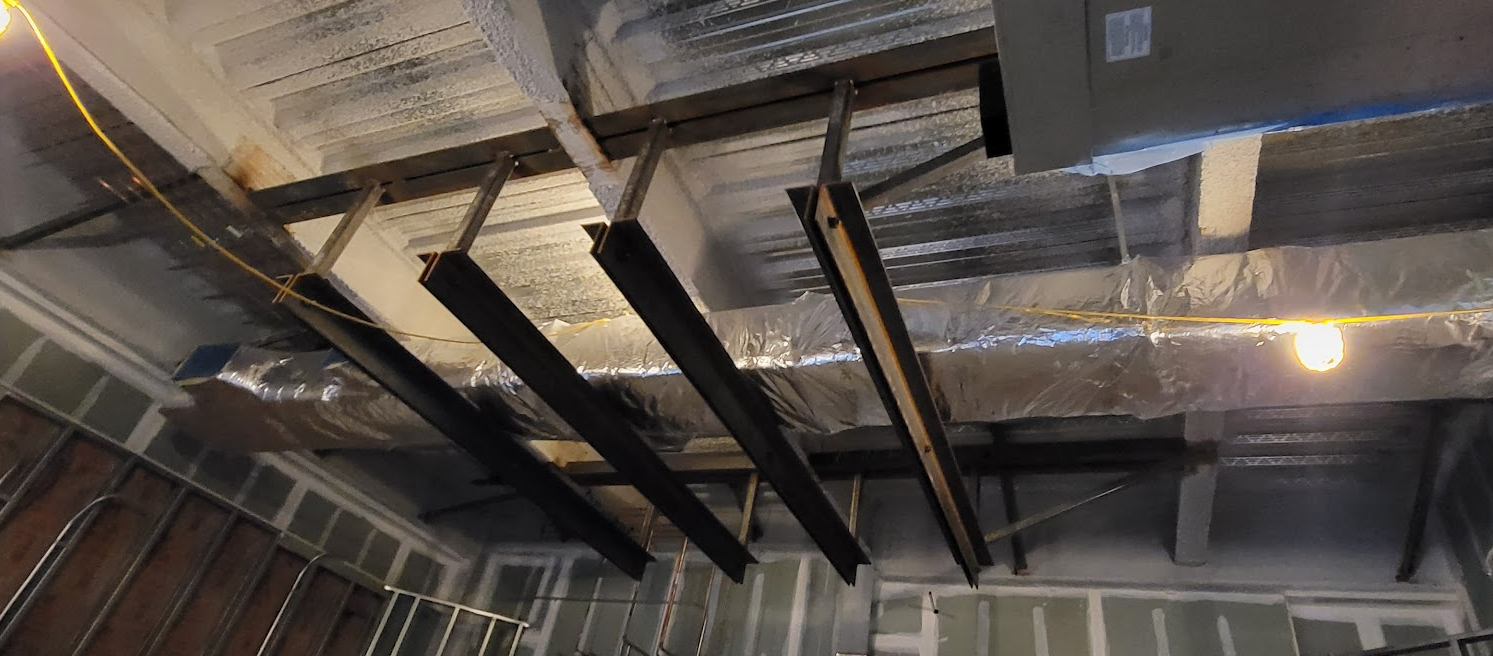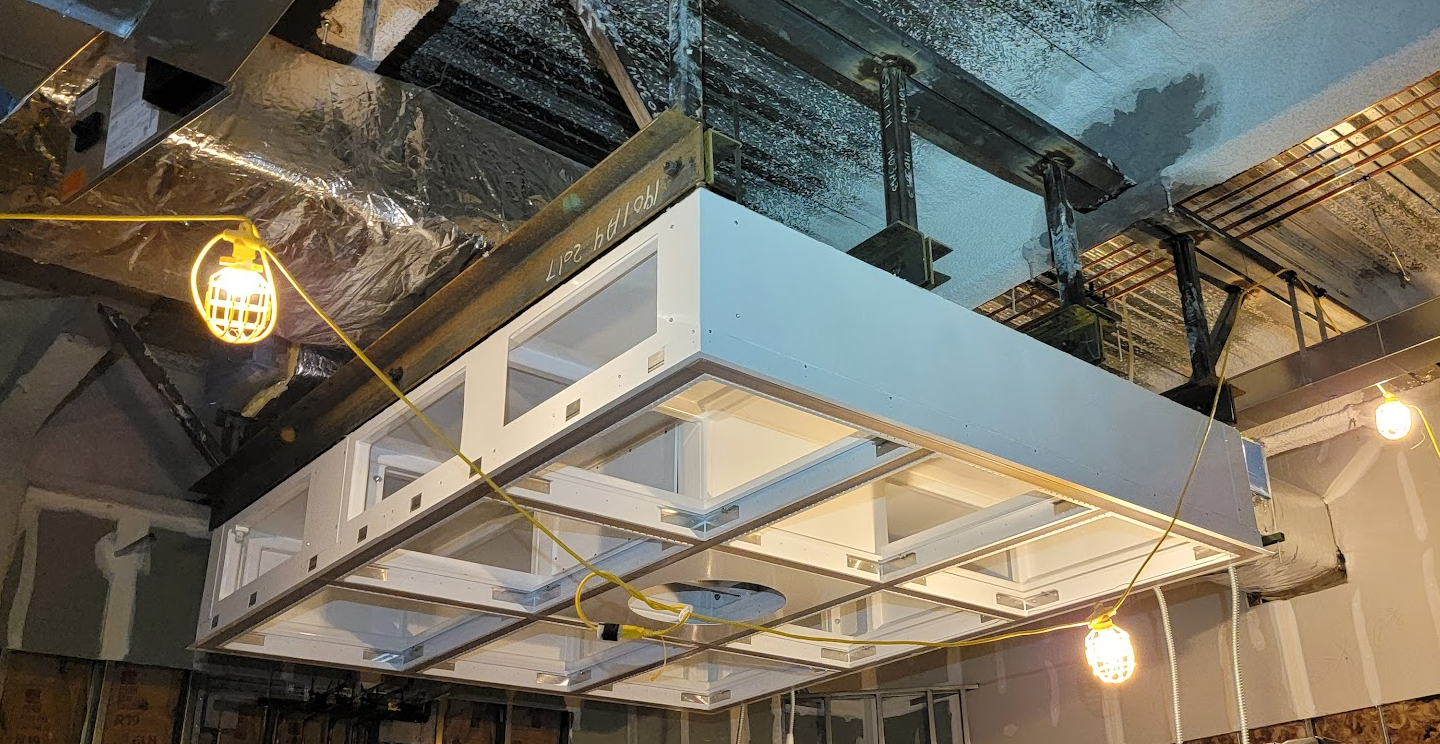 Unistrut-style stringers with ATR Drops:

In the photo below, the distance from the AirFRAME and the supporting structure is close enough that additional lateral bracing was not required.

Rail Channel Module with inset Suspension Holes:

Rail Channels will have suspension holes in their normal location when they can be accessed. In some scenarios, this is not possible. In these cased, the suspension point will be a gusset plate rather than through the corner tube steel.

Normal mounting: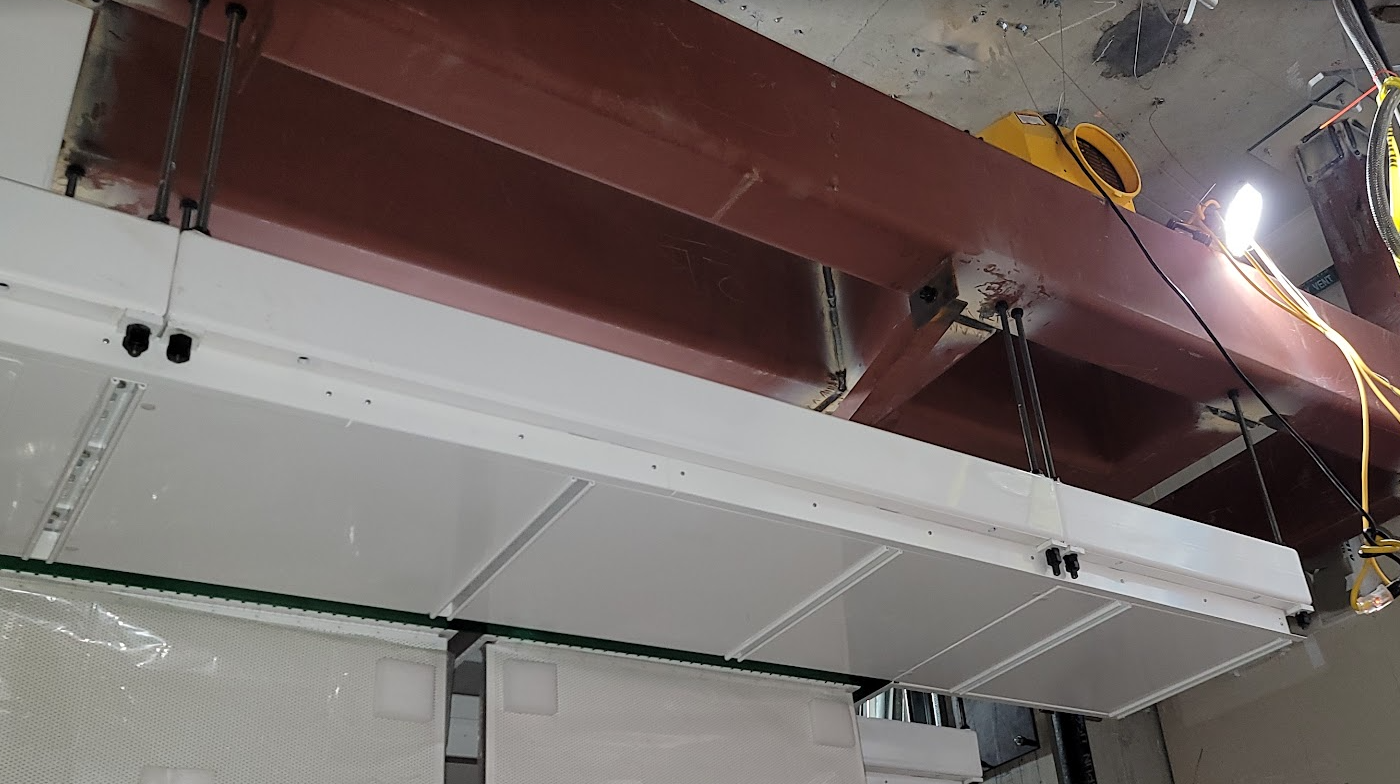 Gusset Plate: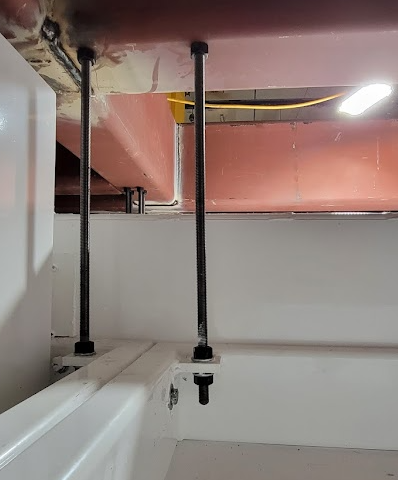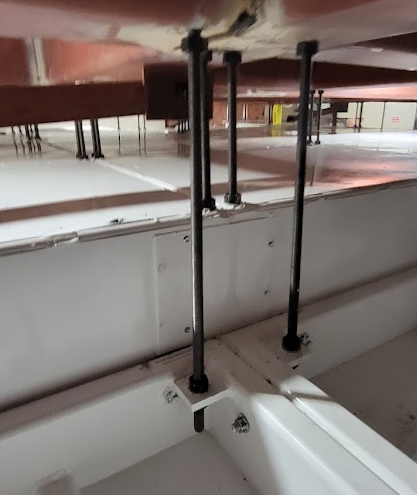 Collector Plate 2-points

In the image below, a double-backed Unistrut-style piece was used to combine two adjacent points into one overall drop from the building structure.

C-channel was used here to combine these two points. In this case to avoid imbedded rebar in the ceiling deck.

Collector Plate 4-points

In the image below, a collector plate was used to combine four points into one overall drop from the deck above.

Here, rebar in the concrete was obstructing the suspension hole locations so a plate was used to provide anchoring that missed rebar. Also, due to the short distance to the support structure, additional lateral bracing was not required.